I figured it was about time I finally participated in
The Story Siren's
In Your Mailbox. Now, when it comes to reviewing things, especially books, I can be a bit slow. I'm mentioning this because if you see something in these posts and want to see a review, let me know and I'll try and be quicker, but my main reason for doing this is to slightly promote everything BEFORE the reviews are posted (Chelsea from The Page Flipper said this and I agreed!).
Everything that I got for Bridge the Gap's In My Mailbox were things that I bought myself!
First, I got
The Angel Maker by Stefan Brijs
This novel fits Bridge the Gap's theme because the author is from Belgium.
Summary:
A literary page-turner about one man's macabre ambition to create life—and secure immortality

The village of Wolfheim is a quiet little place until the geneticist Dr. Victor Hoppe returns after an absence of nearly twenty years. The doctor brings with him his infant children—three identical boys all sharing a disturbing disfigurement. He keeps them hidden away until Charlotte, the woman who is hired to care for them, begins to suspect that the triplets—and the good doctor— aren't quite what they seem. As the villagers become increasingly suspicious, the story of Dr. Hoppe's past begins to unfold, and the shocking secrets that he has been keeping are revealed. A chilling story that explores the ethical limits of science and religion, The Angel Maker is a haunting tale in the tradition of The Strange Case of Dr. Jekyll and Mr. Hyde and Frankenstein. Brought to life by internationally bestselling author Stefan Brijs, this eerie tale promises to get under readers' skin.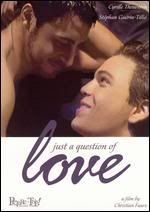 Next, I got the film
Just a Question of Love
, which fits the theme because it's a French film (English subtitles). I have watched this film a couple times now, so you can hopefully expect a review in the next couple days. I just have to say now, however, that I really love this film and the overall message is just brilliant.

For now, here is the Summary:
Cyrille Thouvenin stars in this bittersweet tale of a twenty-something man reluctant to come out of the closet. Laurent keeps his homosexuality a secret, but things get complicated when he falls in love with Cedric. Openly gay, Cedric has no problem introducing Laurent as his boyfriend, even to his own mother. But Laurent's need for secrecy forces Cedric to give him an ultimatum: Either Laurent comes out of the closet, or Cedric will leave him.